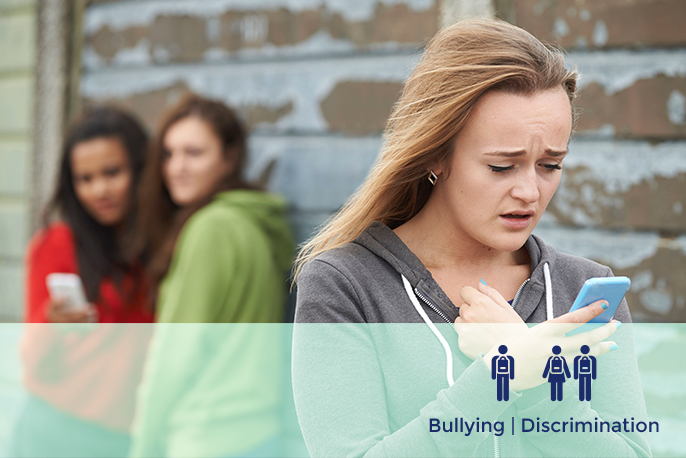 Bullying | Discrimination
Address bullying and discrimination at the root by examining how we respond to difference, hierarchy and power.  Challenge stereotypes, reveal and acknowledge bias with engaging presenters and compelling content. Give those who feel marginalized a voice and those in the majority a new way to listen to those with less visibility.
COS programs address cyber-bullying, in-person bullying, and all types of discrimination: racial, religious, gender, cultural, age, sexual orientation, gender identity, ethnicity, and more. Our unmatched collection of presenters, from comedians to school administrators and psychologists, impart proven strategies to defy drama, establish respect and empower bystanders to intervene.




Goals and Learning Outcomes:
Increase understanding of overt and covert bias, intentional and unintentional discrimination and how to personally work against bias and discrimination.
Understand what constitutes bullying and discrimination, including physical, psychological, emotional, visual, and technological.
Challenge your community to engage in mindful analysis of the current level of respect amongst various groups.
Learn how to respond to and report incidents of bullying and discrimination.
"You are an exceptional educator and authority on bullying, cyber bullying and harassment. Your dedication to eradicate this phenomenon, coupled with your speaking skills allowed you to captivate the audience. You "kept it real "as you creatively wove the audience through a myriad of examples of harassment, the laws that have been written regarding harassment and bullying and preventative ways in which to deal with this serious issue in schools, places of business, etc. Thank you!" 
"I want to let you know that you are such an amazing speaker. Listening to you speak made me feel like I was there with you in that moment. You made everything seem so real which is why this hit my so hard. You are such an inspiration! I want to be that person who takes 12 steps towards the right direction and help as many people as I can!"