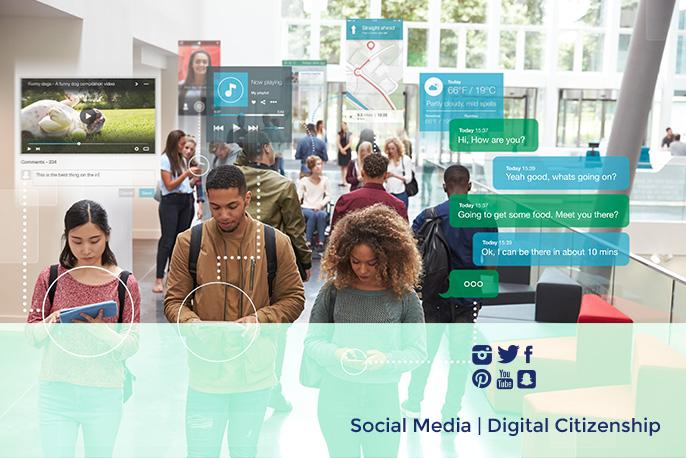 Social Media | Digital Citizenship
With flying fingers propelled with emotion, need-to-stay current, or fear of rejection, we often hit send before processing ramifications. Get back in control and make the most of social media and technology, rather than allow addictive apps, predators, bullies, and corporate profit overtake our lives.
COS presenters are high-energy, fountains of information and captivating communicators. We share real-life stories, so no one thinks, "It won't happen to me." We SHOW students how it's done with real-time back-lot tours of the websites used by the insiders. We combat technology risks by addressing the physical, social, and emotional consequences of social media. Help your students build extraordinary reputations and respectable digital dossiers. We address cyber-civility, the concept of a "digital dossier," sexting, hate speech, anonymity, and more.  Versions for parents, faculty and employees.




Goals and Learning Outcomes:
Understand laws and policies affecting electronic communication, such as child pornography, identity theft, hate crimes, defamation, and harassment.
Learn what colleges, future employers, corporations and future partners may be able to learn from your digital footprint and how to create best impressions online.
Learn facts about predators, gaming addiction and the impact of screen time on the adolescent brain.
Learn ways to respond to inappropriate comments and content, gossip, harassment and cyber-bullying to address issues both at the root and effectively.
Identify what drives our technology choices; including peer pressure, identity development, self-esteem, fear of retaliation; and how to become more mindful in our use.
"Today's assembly really helped me get the importance of being careful what I post online, both for my own online reputation and the school's reputation."
"I am a senior at Cherry Creek High School. Your speech today was more influential, effective and touching than any other talk, speech, or lecture I have ever heard in my entire life. I have never before seen or heard my class as quiet, attentive, and respectful as they were today."